CityScope Net Customer Support
CityScope Support News
Barracuda Email Encryption Service Scheduled Maintenance
The Barracuda Email Encryption Service will undergo a scheduled system maintenance on May 25th 08:00 - 09:00 p.m. Central Time. During this period, encrypted email will be queued and the website will be unavailable.
Start Time: May 25th 8:00 p.m -- Estimated Duration: 1 Hour
Components affected:
Email Security Service - Mail Delivery
Email Security Service - User Interface
Business Hours:
Monday - Friday 9:00 a.m. to 6:00 p.m. (CST)
Should you have an URGENT need, website or email emergency, please call our office immediately at the number above .
NOTE: Our phone forwards to a cell phone for after-hour emergencies or if we are away from the office.
(Please wait 4-8 rings to leave a message.)
Barracuda Quarantine Report Options
As of January 18th, 2021, there are new options when you open up your Barracuda ESS Quarantine Notifications. You'll now be able to approve a message for Delivery or to be added to your Allow List and Delivered or be Blocked in your Block List right from the Notification Report. This should save you time from logging into Barracuda as often.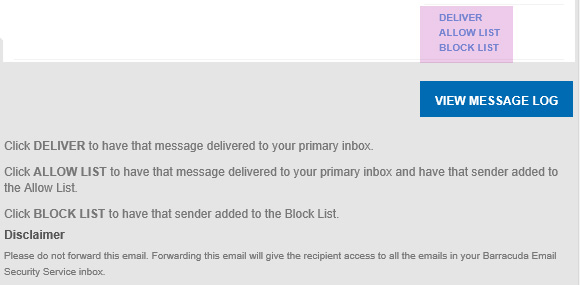 Barracuda Email Security Service
Maintenance Notice - Deprecation of TLS 1.0 and 1.1
In an effort to provide a more secure email environment, support for TLS 1.0 and 1.1 will be deprecated on November 30th, 2020 at 11am CST. Zero downtime is expected. TLS 1.0 and 1.1 are out-of-date protocols which contain numerous security vulnerabilities that may be exploited by attackers.
11:55am Maintenance complete
Web Mail Security Updates
On October 1, 2020, CityScope Net installed security updates on our Web Mail software.
We show no issues, but wanted to let you know should you see something changed or not working as usual.  Please notify us on our contact form should you see any problems.
CityScope Net Stops Support for Windows 10 Mail Client
As of August 26, 2020, CityScope Net will stop support for the Microsoft Windows 10 MAIL APP client. This mail client is broken and is not a reliable program. The SYNC is not working correctly and it has been causing issues with our server firewall program. We suggest Outlook 2007 or higher, Outlook 365, Thunderbird and Apple Mail for your desktop computers.
Please do not confuse this with Microsoft Outlook 2007+ and Outlook 365. We continue to support this software.
If you have any questions, please contact CityScope Net Support.