Ransomware attacks have increased 43% during the second quarter of 2021. In 2020 alone there were 113 federal, state and municipal attacks, 560 healthcare attacks and 1,681 attacks on schools and universities. Ransomware is a form of malware that collects files and will lock your computer or mobile device and hold it hostage. Hackers will demand payment to release your files and computer. They may also threaten to release your personal data to receive extortion payments as well.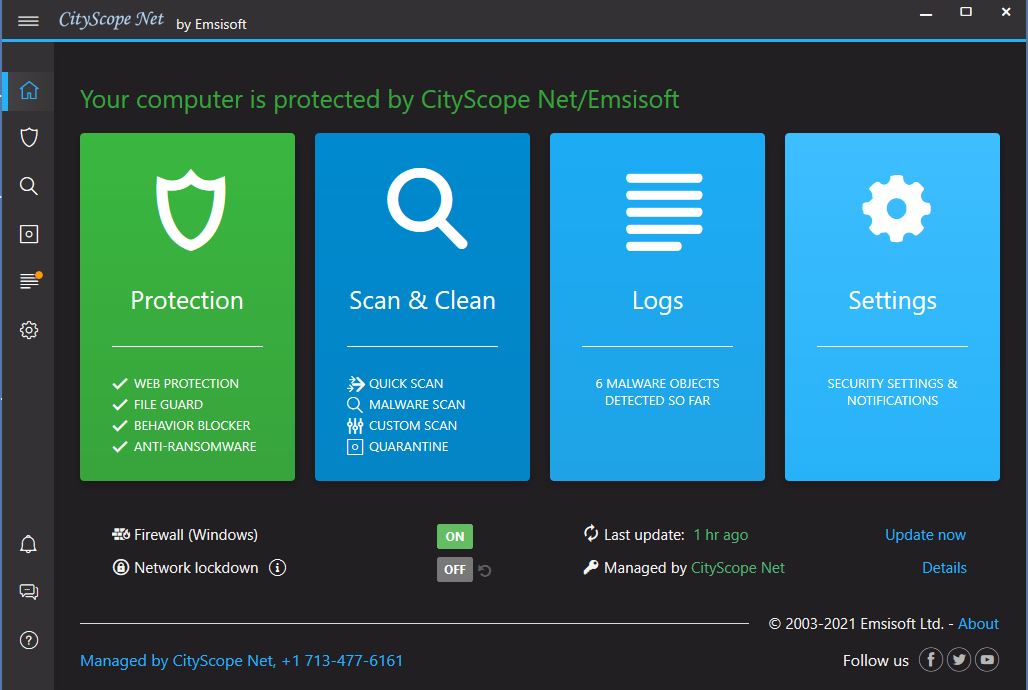 1,300 companies, most in the United States lost data and intellectual property due to Ransomware attacks. Let CityScope Net along with award winning Emsisoft Anti-Malware protect your computer or device from Ransomware attacks.
Emsisoft has an intelligence gathering and exclusive partnership with ID Ransomware that discovers emerging threats quickly and deploys protection to your software quickly. Emsisoft interrupts Ransomware attack chains and detects attacks in common applications used regularly.
Emsisoft will monitor for Ransomware actions such as attacks on processes and will notify you if suspicious behavior is detected. Emsisoft will also detect and block known Ransomware behaviors such as attempts to encrypt or delete backups, large numbers of files being encrypted or Ransomware documents or notes demanding payment.
Not only does Emsisoft stop Ransomware it stops all types of Malware, monitors the behavior of active processes, features browser security to protect against Malware hosts and Phishing scams and checks all files, modified files and downloaded files using a dual engine scanner.
Call CityScope Net today at 713-477-6161 and let us show you how Emsisoft protects your computer or device. From single home computers to multiple computers in a business network, we can find a solution and a price point that will work for you.
To purchase a home version for 1 PC with a 3 year license for $53.95, you can order online here:
Buy Emsisoft Software