Emsisoft Anti-Malware - Anti-Ransomware Software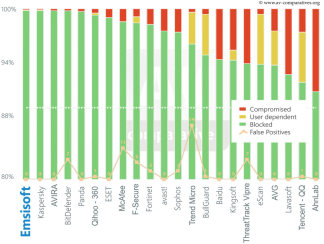 Emsisoft Feature Highlights
Dual-Engine Technology, Award-winning Threat Detection, Advanced Smart Cleaning
Anti-Virus & Anti-Malware & Anti-Ransomware

Scans faster with two detection engines than most products do with just one.

Three-layered real-time protection

Web Surf Protection, Browser Protection, Real-Time File Guard, Behavior Blocker and Anti-Ransomware to ensure optimum protection.

Easy to use interface

A simple yet efficient anti-malware that completely protects your digital life.

Removal of Potentially Unwanted Programs

PUPs are not dangerous per se, but come hand in hand with annoying ads or toolbars and slow down your computer. You can tell Emsisoft Anti-Malware to remove those for you.
Emsisoft Guarantee: Emsisoft will clean your system for free if it becomes infected while using their product.
CityScope Net is an Emsisoft Partner.
Emsisoft Anti-Malware/Anti-Ransomware
1 PC - 3 Year License - MSRP: $95.98
Special Price of $75.00 - (Savings of $20.98)
*** NOTE ***
On the Purchase details page, leave the Quantity 1 after
choosing the QTY of computers in the drop down below.
Need an Emsisoft Business Security License for 3 or more PC's, give us a call at 713-477-6161 or contact us for a quote.
Call us if you need the Mobile version for your phone too!
Emsisoft is a dual engine / dual definition antivirus using Emsisoft Antimalware + #1 rated Bitdefender A/V engine. By combining and optimizing the dual engines, Emsisoft has much less overhead on a PC, than Malwarebytes + any A/V combined. According to Emsisoft, they have a 99.9% ratio at blocking CryptoLocker due to Bitdefender's superior behavioral technology.
Here are some Emsisoft Blog Articles:
How to Perform Manual PUP Removal
Will it run on my PC?
Emsisoft runs on 64 bit Windows systems as of 2021.10 version. See our Supported Operating Systems section below. While running, Emsisoft Anti-Malware uses about 200 MB of your RAM which is quite low considering the 10 million signatures that it must load. If your PC has at least 1 GB of RAM, this will be perfect.
Supported Operating Systems and Platforms
Windows OS
Applies to the follow Emsisoft Versions:
Emsisoft Anti-Malware Home
Emsisoft Business Security
Emsisoft Enterprise Security
Emsisoft Emergency Kit
Emsisoft Commandline Scanner
Supported Windows versions:
Windows 10 (64 bit)
Windows 11 (64 bit)
Servers
(Emsisoft Business Security and Emsisoft Enterprise Security only)
Windows Server 2022 (64 bit)
Windows Server 2019 (64 bit)
Windows Server 2016 (64 bit)
Android
Emsisoft Mobile Security
(Android 5.0 (Lollipop) and higher.)
No longer supported
Windows versions:
Windows 10 (32 bit)
Windows 8.1 (all editions)
Windows 7 (all editions)
Windows XP (all editions)
Windows Server 2012/R2 (all editions)
Windows Server 2008 R2 (all editions)
Support ended on June 30, 2021. Existing installations will no longer receive new features through monthly update cycles. However, malware detection updates will be provided at least for 12 more months, until June 30, 2022.