Windows PC Networking & Software Installations
WINDOWS 7 SUPPORT ENDS JANUARY 14, 2020
After that date, there will be no security updates. This will leave your computer vulnerable to attacks.
We can help back up your important data and transfer it to a Windows 10 operating system PC. We have GREAT prices on Windows 10 licenses and computer systems too! Give us a call at 713-477-6161 or contact us today!
Software Installations and Troubleshooting
CityScope Net provides Windows Computer networking services, software installation and troubleshooting onsite and remotely.
Service Onsite or Remote:
Install routers and cable modems
Network your business computers
Install hard drives or Add RAM
Install printers, software and drivers
Install and setup Quickbooks on your PC
Install and uninstall software, such as; anti-virus, anti-malware, Outlook, Adobe products, etc..
Setup your settings to work more efficiently
Clean your PC of problems like malware, viruses, incorrect settings
We can speed up your computer; add Ram, clean up your desktop and start-up settings.
We can come to you within the Pasadena/Houston area at $120.00 per hour. This includes drive-time to and from your business or residence.
We mainly service Pasadena, Deer Park, and La Porte Texas areas. We can also travel to Southeast Houston, Kemah, Seabrook, League City, South Houston, Pearland, Friendswood, Channelview, and Baytown
Call for an appointment at 713-477-6161 or contact us by email.
Need to replace a hard drive, power supply, save or move data between two pc's?
Give us a call at 713-477-6161 or contact us today!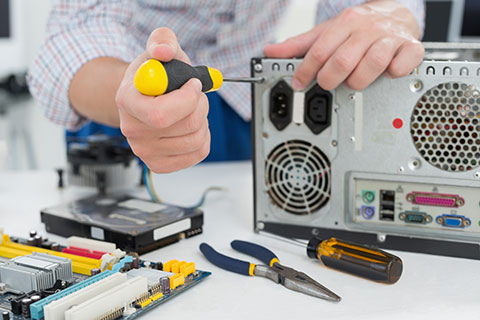 Computer Drop-off Center:
Our rates are $100.00 per hour to work on your computer issues when you drop off your computer at our Fairmont Parkway location.
Our CityScope Net Affiliate Store (Inside Mail Boxes Plus)
(Map © OpenStreetMap)
Remote Troubleshooting:
To Toubleshoot online remotely, you would need to establish an account with CityScope Net and have a credit card on file. Our rates are $100 per hour, minimum charge is $25.00.